COAT prepares educators to be effective online instructors. It is a rigorous course which is easy to navigate and understand if participants take the time to read and understand the orientation information. That is what the cartoon found above is all about. Most of us just want to jump right in without paying attention to details. In the COAT course that attitude often leads to frustration. When students take their time in reading all the up front information, they love the course and learn a great deal. Be determined to read all orientation information and initial course information , study the clearly written ideas and post questions to the course Q &A forum.


How Online Learning Is Revolutionizing K-12 Education
Online Education is becoming an important option for K-12 education. Over 1.8 million K-12 students took distance-learning courses in 2009-2010. Thirty-one states had fully online school options in 2012, and five states (Florida, Michigan, Idaho, Virginia and Alabama) require students to take at least one online course in order to graduate.¹ The future of education will encompass online learning at all grade levels -- blended, flipped and fully online. Truly, change is in the wind, perhaps happening at the most significant pace since the industrial revolution.
Do you have what it takes to be an effective educator in this new online world? You already have the skills to inspire, motivate and engage your students in your own classroom. But what about online?
Change is scary; change is challenging; change is essential.
You have heard time and time again, technology is changing the landscape of education. Your students come to school already adept at technology and social media and excited about creating authentic, real life projects using the tools of the web. How will you help your students build on these important skills?
Be prepared! Learn teaching strategies for this new collaborative online environment. Learn how to engage students and facilitate collaborative learning online. (This is particularly important if you have not experienced online learning in your own education.)
In one unique program, the Certificate for Online Adjunct Teaching (COAT), K-12 educators learn alongside college faculty, some of whom are already experienced online educators. This online intermingling of experience and ideas benefits everyone. K-12 educators and college professors problem solve together in an atmosphere of mutual respect. Understanding what goes on in lower grades impacts college education and vice-versa.
Based upon research, The COAT course is a 9-week, fully online professional development course offered by MarylandOnline, a non-profit consortium of colleges in Maryland.
Over 700 college and K-12 educators from 33 states and 9 countries have completed the course. One educator, Carole Williamson, expresses what teachers are saying about the experience:


"While the value of the content was indisputable, the process of actually
participating in a model online class has provided more than I could
have ever learned from books, articles, discussions and other formats."
Whether you teach at the college, high school, middle school or elementary school level teaching online will require new skills. COAT offers opportunities to master those skills.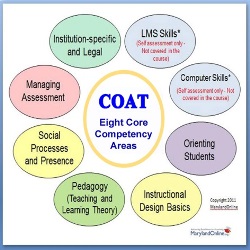 You'll explore:


Pedagogical approaches to teaching online
Internet safety
Establish a social presence
Facilitating online discussions and group work
Managing assessment
Legal issues
Relevant policies, procedures, and support services
...and much more
1. The Global Race for Online Learning: How Does America Compare? Matthew Lynch. Education Week. October 18, 2013
The Certificate for Online Adjunct Teaching (COAT) is a program of MarylandOnline. MarylandOnline is a non-profit, inter-segmental consortium in Maryland dedicated to championing distance education and enhancing the quality and availability of e-learning in Maryland and worldwide.
MarylandOnline COAT Program
1997 Annapolis Exchange Parkway,
Suite 300
Annapolis, Maryland 21401
(410) 709-8267
To subscribe to THE Journal Focus Newsletters, please click here.
If you would prefer to no longer receive future communication from the sponsor featured in this message, please click here.